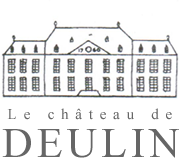 THE HUNTING THEMED DINNING ROOM
---
Available for any type of dinner: huntsman's meal, 3 course menu or more.

Prices and menus on demand

The dining room, decorated with original paintings depicting hunting scenes is a reminder of the days when the Chateau de Deulin was used as a hunting lodge. The high quality of the fourteen paintings is an exceptional testimony to the great history of the Chateau.
The paintings were signed by Dieudonné Deneux in 1764; a Belgian artist from Liège who was a student of Coclers. They were then restored in 1797 by Full prenom Lovinfosse and protected by a thick varnish that became almost opaque over nearly two centuries.
A few years ago, the fourteen paintings were restored and consolidated by Daniel Pierot, Belgian painting restorer.
---

Close

Open